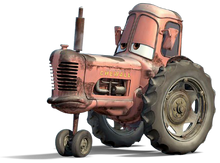 {{
Tractors
Occupation: Radiator Springs Cattle
Performer: Uncredited
The Tractors are characters in Cars.
Tractors are hard workers. They enjoy what they do, plowing through the fields on a nice warm day, and then falling asleep under the moonlight. But every so often they wake up to the sound of snorting and giggling trailing off into the distance, and they find themselves lying on their backs staring up at the stars. But they don't mind. It's actually kind of nice to get to sleep lying down for a change.
Appearance
Edit
Feature Films
Edit
Short Films
Edit
Fillmore
Ad blocker interference detected!
Wikia is a free-to-use site that makes money from advertising. We have a modified experience for viewers using ad blockers

Wikia is not accessible if you've made further modifications. Remove the custom ad blocker rule(s) and the page will load as expected.